Be naked when I come home! An introduction to BDSM
Marie Sann .
Sep 01, 2020
B-D-S-M. Four little letters that bring so much curiosity, yet a lot of misinformation is spread about them. In this article, you'll read about the basics of BDSM, get introduced to bondage techniques and understand everything you need to know about this fun part of the kinky world.
It stands for Bondage, Discipline, Sado-Masochism. Each of one of them can be played separately or together. But before you get into it, there are some things you need to know first.
Are you the dom or the sub?
1) Before you start define your role:
In BDSM play, people can identify as
dominant
(also called top),
submissive
(also called bottom), or
switch
(which means that they are sometimes dominant and sometimes submissive). It might be that people
stick to the same role
each time they play together, or that they
takedifferent roles
on different occasions.
In a power exchange dynamic, the irony of BDSM is that the submissive is the person in control. The dominant may cause something to trigger the stop signal and must always follow the promise to immediately stop the session.
The dominant part carries a great responsibility. Being a top means teaching your partner with a gentle hand. It is your job to dominate your partner, but you must also be caring and nurturing, taking your submissive to their agreed-upon limit, but never beyond it. In this way, BDSM offers everyone the opportunity to experiment with taking and surrendering power, while always feeling safe and cared for.
2) Define a time and place

Make arrangements with your partner for your scene. Be aware of your role during this time. For example, the dominant part may begin the session with a clear suggestion, such as: "When I come home from work tomorrow, I expect you to be naked on the bed, ready for me."
This simple suggestion will for sure cause much anticipation!
The importance of aftercare
We have mentioned before
aftercare

is an essential part of BDSM play
. But what does it really mean? Since BDSM can tap into vulnerabilities, it can touch on a range of emotions and physical sensations. Aftercare is a tool to address that – after all, BDSM is all about consented, empowering play. It allows you to
ease into reality after coming out of the fantasy world
, and it can be customized to your needs.
Some common aftercare practices include physical comforting, addressing what happened in play and what sensations it brought forth. Like everything else in BDSM,
communication is key
. Make sure you talk to your partner so the aftercare is tailored to their needs and remember – Doms need aftercare too!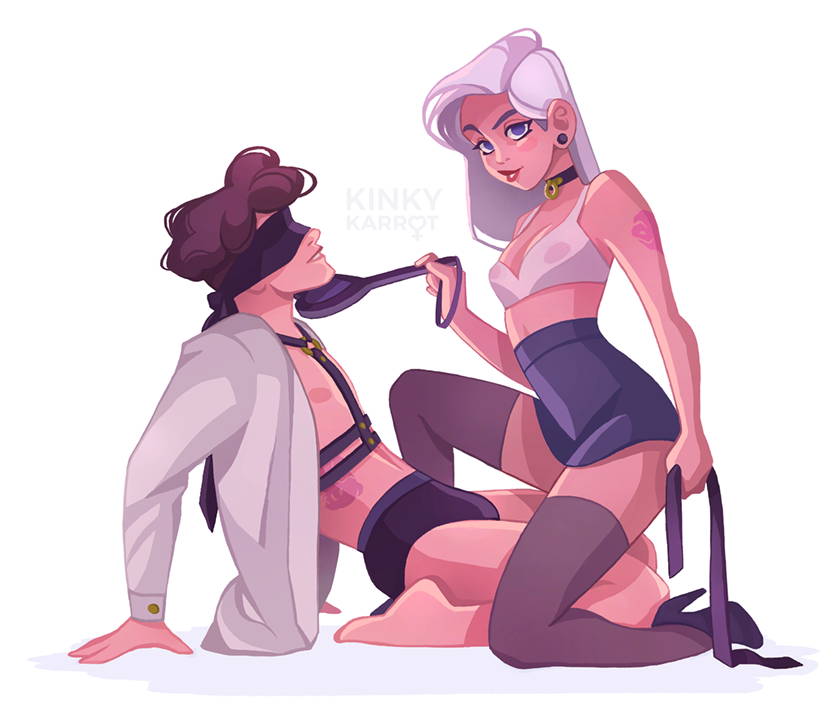 Take it easy and enjoy the ride
You are probably going to feel silly or awkward the first few times you try to tie a fancy knot or command your partner to their knees. You're bound to make mistakes and that's totally fine. BDSM is all about having fun and exploring new parts of desire and fantasies. Keep it all in the spirit of adventure.
Some people are not interested in anything more than using BDSM as a way to spice up sex and that's fine. In fact, most people don't have a Dom/sub style relationship and just like to have a little kinky sex.
You and your partner should understand what each other likes and respect agreed boundaries.


We wish you and your partner a lot of fun and would love to hear about your experiences via our Instagram page: @kinkykarrot
written by Marie Sann & Pimenta Cítrica