Be Naughty: 20 ideas to make your Christmas kinky
Shopify API .
Dec 01, 2020
From adult games to gift suggestions - all you need for a kinky holiday!
Christmas is the time of year for a little magic, for exchanging gifts, for decorating the house. And it is a quiet, contemplative holiday, isn't it? Well, if you know Kinky Karrot, you already guessed it: not with us!
We have a list for you with 20 different ways to spice up your Christmas and transform it in a very kinky time. Especially with travel restrictions, the perspective of staying at home this December doesn't have to be a dread.
 
Now get into the Christmas spirit, because naughty boys and girls will get the prize in the end!
Christmas has always been Kinkier than you think!
Sure, 2020 is stimulating us to be a little more creative when it comes to Christmas festivities - but
you are mistaken if you think having a Naughty Little Christmas is a modern phenomenon
. In fact - the whole holiday comes from pagan rituals! 
In Pre-christiany Europe, religious celebrations were very in line with nature and seasons - after all, they had a huge impact on people's day-to-day life. So, around the time Winter solstice rolled in, the holiday began as a tradition to honor the crops and also distract folks from the sheer boredom the darkness and cold would impose.
It was named the Festival of Saturnalia - in honor of Roman's God Saturn, and would happen between 19th and 24th - when people would get together to eat, drink, and exchange modest gifts.
Things like decorating a Christmas Tree, singing carols, and even the image of Santa Claus himself - all have pagan origins. And many of these traditions had nothing to do with holiness but celebrating fertility and abundance. For instance, the habit of adorning one's house with ivy comes from the fact that Bacchus - the Roman god of Wine and fertility - used to wear leaves.
The celebration was culturally very important to the masses, and as the continent slowly converted to Christianism, many traditions of Saturnalia were incorporated into the holiday we now call Christmas. Since the church saw they could not ban the festival, they allowed people to continue to celebrate as long as the holiday was done in honor of Jesus Christ.
 
So, in engaging in some naughty fun this Christmas, you are honoring the tradition of the holiday and celebrating its ancient roots - which is a fun reason to get dressed up, role play, and enjoy the festivities like never before!
 
Got excited? Well, we have a full list of fun ideas to spice up your Naughty Christmas celebration - from activities to gifts, there is a little something for everyone!
20 Ideas to Have a Naughty Christmas
Naughty Christmas Role Play
"So, come sit on Santa's lap. Have you been a good girl/boy this year? If not, you might get a spanking…" Many Christmas traditions just sound very naughty, so why not start there? Having a role-play can be lots of fun - and even a little BDSM can be incorporated into it!
Bake kinky Christmas cookies 
Baking can be a blast, especially if you add some kinky elements! Penis or vulva-shaped cookies, gingerbread people with BDSM attire - let your imagination fly high. Want to spice things even more? How about wearing nothing but an apron?
Gift each other naughty stocking stuffers
How about turning your stockings into a bag of NSFW goodies? Lube, sensual massage oils, flavored condoms, edible underwear and even sex-toys. A surprising option that will guarantee fun for the whole winter!
Kinky advent calendar
Advent calendars are one of the most fun Christmas traditions - and it wouldn't be different with an adult version. There are countless options avaible - from sex-toys to nude photos. But if you are on a budget, you can also get creative and make your own kinky advent calendar for your naughty Christmas. Perhaps even with call-to-action cards (Day 1 - give massage. Day 2 - Wear sexy underwear)!
Play Secret Santa with sex toys
This year, a lot of people will celebrate Christmas with their friends because of the travel restrictions. Well, why not make the best of it by adding some NSFW fun? Put a  spicy twist on the traditional Secret Santa game by using sex toys only as gifts! The best part will be describing why the recipient will enjoy that particular toy.
Write naughty Christmas cards
Who says the card can't be the star of the night? This is a very good idea if you are close to your loved ones - but also for those lovers who will spend the holidays apart! How about a detailed recount of your best night - or a steamy description of your best-kept fantasy?
Christmas-themed pet-play
For the lovers of pet-play all around, this time of the year is an invitation to work with your creativity! Naughty elves, reindeers… The possibilities are many, and the customs are sure to be a lot of fun!
Do it under the mistletoe
We all heard of the romantic tradition of kissing under the mistletoe… But what if I told its roots are not that innocent? In the Roman legacy, the mistletoe was the plant symbol of Saturn, and considered sacred. So, they would practice a fertility ritual under it - by having sex. We might have watered the tradition down, but you have the chance to do it like it was intended in the first place.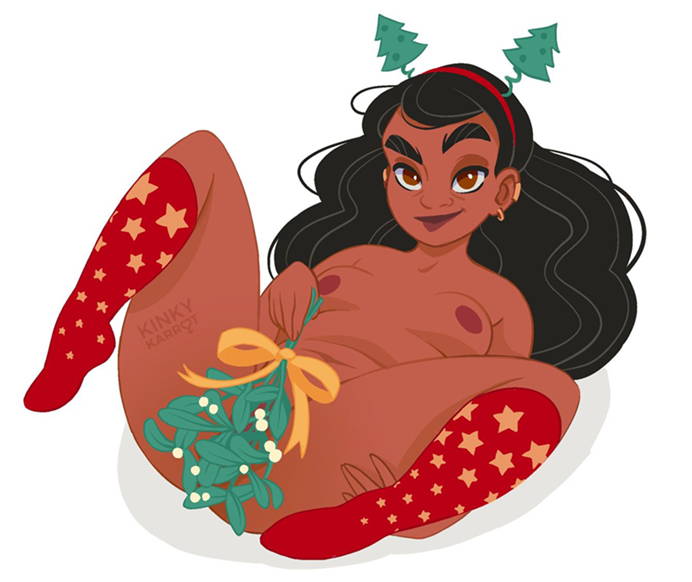 Gift them sexy coupons
How about something to look forward to for the whole of the next year? Make them creative coupons for naughty activities? Like the advent calendar, you can give them vouchers good for a round of oral sex in January, being tied up in February, and so on. And the best part is that nobody knows your lover more than you - this is a completely customizable gift.
Play a kinky "naughty or nice" game Christmas night
How about adding a twist to the "naughty or nice" tradition? If you are hosting a friend's Christmas party, surprise them with a kinky version of the game. For the "Naughty" cups you can use phrases like "gave a blowjob at a gas station" - and the "Nice" things like "made my partner cum twice in the same night." The little gifts could also be kinky-related!
Try some candy underwear
Everyone will be eating loads of candy this holiday season - but what about turning it into something a little more interesting? You can buy some candy underwear to satisfy your lover's sweet tooth. There are many options available! For sure everyone will be happy to have dessert for dinner.
Search for an erotic story to renact on Christmas night
In the mood for something more elaborate? How about renacting an erotic story on Christmas night? This is a super fun way to stimulate creativity, as well as bringing your fantasies to life. Search for an erotic story that really makes you tick; and then act it out with your lover on Christmas night. You can do it by just recreating the sexual acts in the story - or by going all in and role-playing the characters, too! It's up to you!
Go shopping for a sex toy for couples
Instead of shopping separately for gifts, how about looking for something for the pair? Choosing a sex toy together can be a very interesting bonding experience and a very nice way to be introduced to toys - since it will be something that belongs "to the couple." A guaranteed way to have a Naughty Christmas!
Buy some festive BDSM gear
If going full thematic is your thing, you can turn things up a notch by looking for some festive kinky gear. There are many options online - from nipple clamps to bondage ropes, all for you to feel extra naughty this Christmas.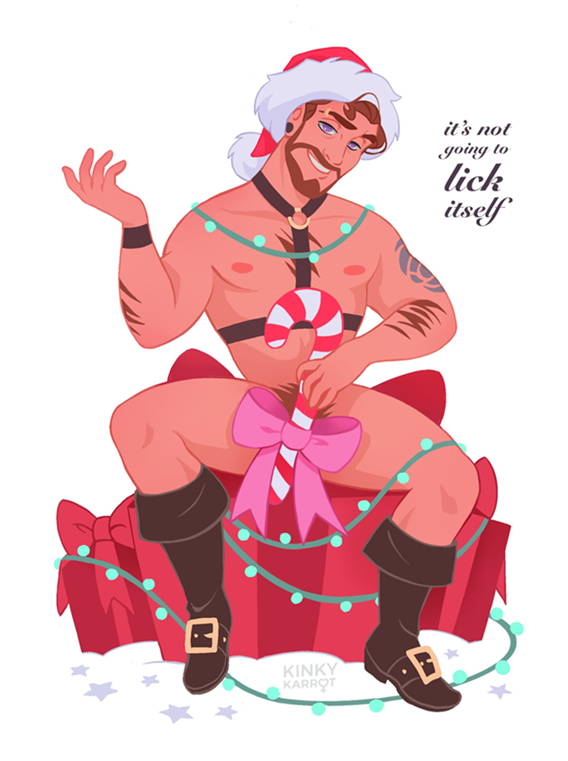 Decorate a Christmas tree with kinky ornaments
If you won't be around family this Christmas, how about giving your tree the naughty treatment? Decorating it with kinky ornaments can be a very fun idea! While there are tons of super cute options online, you don't have to break the bank to do it. You can use the dildos and sex toys you have at home as adornatios! Or even craft some kinky motifs with paper, scissors and glitter.
Use Christmas lights as bondage rope
No, but really! This is a thing! What better way to get into the Naughty Christmas spirit than to be lit up like a tree? Just make sure to be safe if you're going to try - use battery-fueled lights so there is no risk of electric shocks. And follow all the usual bondage rules. Also consider using led-light strips. They are safer and just as pretty.
Play "Strip-20 Christmas Questions"
Another way to spice up a fun Christmas game! How about playing the classic 20 Christmas Questions - but adding the rule that one should take off a piece of clothing every time they get something wrong? Just make sure to have lots of mulled wine to keep everybody warm!
Try some wax-play
Ah, the season with candles all around… But who says they have to serve only as decoration? You might be inspired to try some waxplay! Just make sure that you start off with low-temperature dripping candles. And if you are looking for something extra-thematic, there are many options with Christmasy scents, like cinnamon and gingerbread.
Do a homemade sexy Christmas photoshoot
Empty streets, cold temperatures… Christmas is the time to stay inside! How about putting that time at home to good use with a creative & intimate Naughty Christmas photoshoot? Get some props like Santa's hats or white gloves and snap pictures of each other for sweet and spice memories that will last forever!
Gift your loved one a commissioned drawing from Kinky Karrot
What could be more special than a completely personalized drawing? If you are looking for a very special gift, this could be it. The commissioned artworks are catered to look like the person being drawn, and you can choose the outfits, settings, and many other details. For sure it will be the most memorable gift of the season!
But remember; if you want it in time for Christmas, you must place your order before the 15th of December!
So now it's time to use your creativity and make the best - and naughtiest - Christmas season! Just remember to tell us all about it on our Instagram account

@kinkykarrot
or write us an

e-mail

.
written by Pimenta Cítrica