MY FIRST TIME AT A SLAVE AUCTION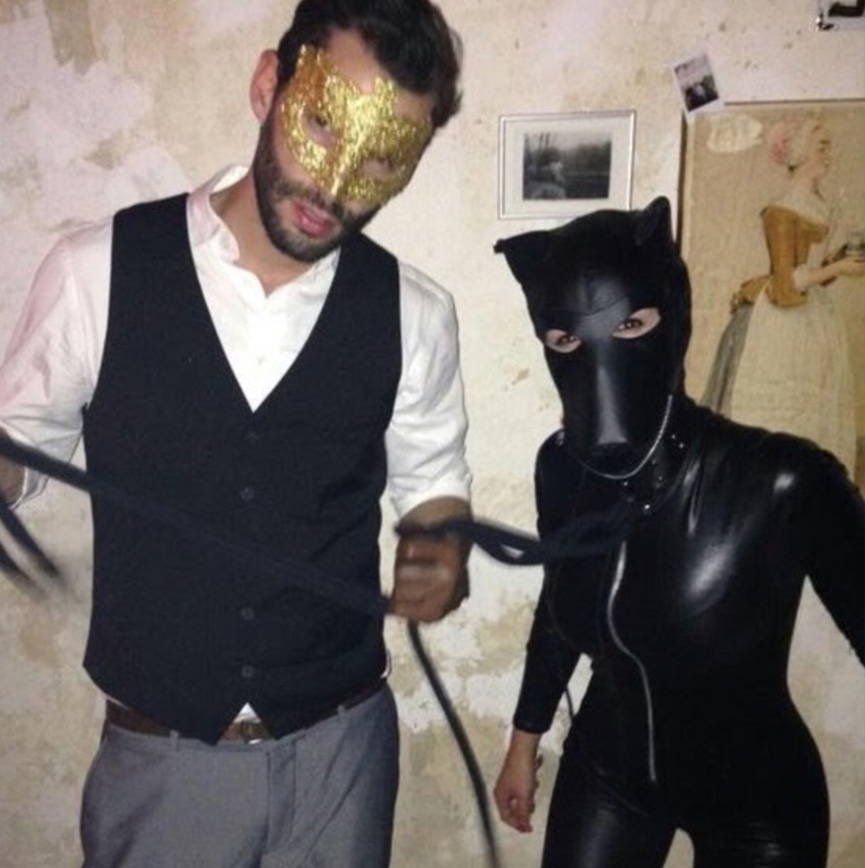 My boyfriend and I have been in a happy relationship for 13 years. One day a friend invited us to a kinky event.
She regularly hosts a
BDSM
event including a slave auction with a few fetish friendly people. Everything I knew before was that you can write down your preferences on a sheet of paper and you can get sold on stage for real money. It is a consensual act and you can keep the money.
We've been to a lot of events, but this was our first time at a so called slave auction. When we agreed, the question arose what to wear.
I didn't want to show too much skin because I was afraid of perverts harassing me. So I decided to wear a skin-tight full-body suit that I wore at the last Halloween party and a dog mask that we bought on the Reeperbahn in Hamburg. My friend was the sexy master, dressed smart and put on a golden mask. He used a rope as a leash and our costume was ready. On the way to the location, a smartly dressed couple walked in front of us. They looked like they'd just come out of a business meeting. To my surprise, the two of them also went into the entrance we were supposed to use and they have taken off their clothes in a relaxed manner while standing in line. The club is hidden in a basement in a typical Berlin Kreuzberg backyard. They were dressed in latex and leather under their business suits. And finally after changing clothes they were half naked.
Fortunately, you couldn't see my flush of shame and surprise under the mask. The man strapped a ball into his mouth and the woman pulled it with great pleasure.
I was really happy that I could watch everything in my costume without showing my face. At the entrance we were given a warm welcome. It was fine for the team that we preferred not to get too naked. My costume was kinky and creative enough and my boyfriend was charming and sexy enough to pass :).
Once inside we were surprised by the great decorated location and many wonderful people. One costume was more unusual than the other, some were just completely naked.
Right at the beginning we met our friend, who explained everything to us: Whether you participate actively at the auction or not is up to you. But if you want to get sold on stage then you have to fill out a sheet of paper with you preferences and boundaries. There are even certain sexual practices that are not allowed in general like unsafe sex, and anything non consensual in general.
Anyway, we just wanted to watch and not to be auctioned.
On the way to our first drink, I noticed how polite and respectful everyone was. No hustle and bustle, but polite step aside when I passed by, no grabbing your bottom, but many compliments and friendly faces. I was surprised and then surprised by my surprise: They weren't wild perverts at all, but normal people who lived out their kinks. I have to admit that it was one of the most exciting evenings for me until then. I was able to watch the whole evening and was part of a very exciting event. One of the highlights was the sushi that was served on a naked woman who was aesthetically tied to a board, then presenting the 'goods', the auction itself, and the playing afterwards, but I'll be happy to tell you about it another time….
Is there a personal experience you would like to share with the Kinky Karrot community? Then write us a short summary of about ten sentences, what you would like to write about and why you think it would be an enrichment for the community. We look forward to hearing from you and are excited about your story. (Please note that these are real life experiences / stories, not fictional stories). Get in touch!
READ MORE FROM THE COMMUNITY