The Simplicity of Self-Acceptance
Community Story by LOREENA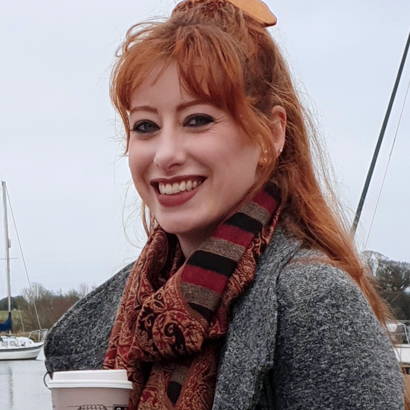 I'm underage, underdressed and distinctly under the influence at a friend's house party in the late noughties. Satin dresses, spin the bottle and performative acts of light lesbianism are all the rage - even Katy Perry is singing about it. All my friends are making out, mostly to attract the attention of the fluffy-chinned, brooding boy they like, and I'm no different. Except I am different, as is made so
agonizingly
obvious when I subconsciously move my hips against a girl in my class, mid-kiss, and she shoves me across the room, screaming slurs at me and theatrically wiping her mouth.
College brought more biodiversity and several of my friends came out as gay, much to the on-trend apathy of the rest of us. I was falling in love with the man who would later become my husband, and tried hard to push ideas of anything other than heterosexuality to the back of my mind. The idea of kissing a woman was terrifying and painful - I couldn't risk that kind of humiliation again. Still, something didn't feel right and I confided in a friend about my bi-curiosity; she was much more sexually experienced than me and seemed to know everything about everything.
'Can you imagine marrying a woman?' she asked, with a hint of derision. I shook my head.
'Well then you're not bi.'
And it really seemed as simple as that. The way I felt about women was very different from men, and it made sense that I would have to be attracted to both in the same way in order to call myself bisexual. Was I even attracted to women, or had society's over sexualization of my gender distorted my own desires until I couldn't work out where the male gaze ended and my own began?
My boyfriend moved in and the months bled into years. A life of monogamy was assumed and we planned the future I had always wanted; marriage, kids, a house with a big kitchen for entertaining.
Did my sexuality even matter anymore?
Even if I was attracted to women, I was in a hetero relationship for the long haul, so labelling myself as anything other than straight seemed pointless… even appropriative. I hadn't earned any other title.
This grumbling, wondering unknown hid in the shadows of my subconscious for over a decade like a creature without a face or name. Sometimes it felt urgent, even imperative, that I acknowledge and identify it - other times, it was quiet and content in the dark.
By the time 2020 rolled around I was married, mortgaged and, for the most part, happy. Scrolling mindlessly through social media one day, I was struck by this simple statement; maybe it's a girl crush, maybe you're queer. It had been years since I thought about my sexuality for more than a moment, but the fragile walls I'd built came crashing down around those eight words. The pandemic removed the everyday distractions that had kept me busy for so long, until I was staring down the barrel of my own existential crisis. When you strip away the socialising, the job, the travel, the need for an underwired bra, who was I? Wife, artist, neighbor, daughter, friend… these labels fit me so easily, so comfortably, but there was one missing.
In the age of self-care and personal growth, the focus is always on the future. Where do you want to go from here? How do you move forward? Maybe it's not so much about looking at where you're going, but where you've been. Maybe self-acceptance is just that: acknowledging that you've already done the work, made the journey, endured the trials, and now all that's left to do is revel in your natural conclusion.
Is there a personal experience you would like to share with the Kinky Karrot community? Then write us a short summary of about ten sentences, what you would like to write about and why you think it would be an enrichment for the community. We look forward to hearing from you and are excited about your story. (Please note that these are real life experiences, not fictional stories). Get in touch!
READ MORE FROM THE COMMUNITY