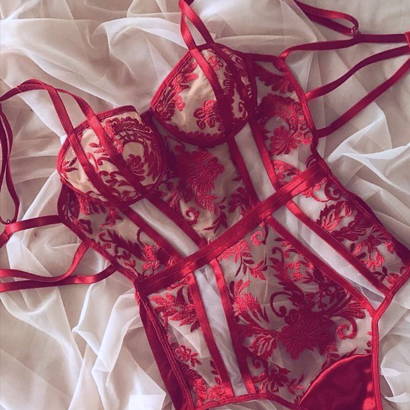 I remember the first time a girlfriend surprised me wearing some lingerie. She stood in her bedroom in stockings and a satin babydoll. My heart raced as I took in all the little details of the outfit, as I ran my hands over the soft materials.
This was the moment I fell in love with lingerie
, I didn't realise though I wanted my own. That took a lot longer to work out.
6 years have passed and what started with a bang soon fizzled out as it was made clear lingerie was a special treat. The relationship also ran out of steam and I was single. I started collecting Pin up photos at first as material to get off but I also spent time comparing outfits, looking at all the cute details, the different materials, the softness they created when pastel colours were used. I was missing femine beauty in my life. I have never really shown much interest in clothing or materials before. I think a part of it was a reaction to my many years as a metal lover dressed only in black.I wanted color, soft materials and elegance.
Then I met my wife and it transformed my life in so many ways. The connection was instant, it was clear to all around there was something so very special about this relationship. I had not only found a best friend butsomeone who also loved lingerie as much as I did! It was also clear that these would not be left forgotten in the draw till special occasions as well.
I would take great care in thinking what outfits we could combine in different ways
. I would think of all the pretty details, the bows, the patterns and the lace trim on the edges. Which stockings would match that outfit. Should they be seamed stockings or lace top hold ups. Picking the outfit built the anticipation. I wait as my wife gets changed imagining my hands all over her, feeling the soft materials, the stockings.
It all just gives me a surge of passion as I take it all in.
It adds to the romance of the evening, having almost a parcel to unwrap as we play with each other's bodies.
The shine of satin and how decadent it looked made me wonder how it would feel on my skin. I was looking at my own boring boxers wishing they came in nice bright colors.
I wanted satin and lace, and to feel sexy.
I had without knowing become jealous of my wifes lingerie and wanted my own. I spent months on the web trying to find the product I had in my head, as well as wondering how I was going to bring up the subject to my wife. I would swing from wanting to bring it up as I wanted to express myself to pretending it wasn't important. I didn't want to explore this side in case other people would think I am less of a man. It was a big barrier to break as I questioned why I need to experience this.
Even though my wife and I have a very good open dialogue to talk about our sexual fantasies I had built up in my head what I wanted was wrong. It all seems so silly now as they are only some satin panties and stockings but when these thoughts are in your own head it's hard to disconnect from how the media thinks a man should express his sexual desire.
It took a long time for me to slowly express to my wife that I wanted my own lingerie. Once we both sat down and picked a pair the nervousness had gone and I was just excited. I knew I would enjoy the satin undies, that I would enjoy wearing them during sex. What I didn't expect was how empowering underwear can be. My satin collection quickly grew and became what I would wear to give me that little extra something if I was feeling low. I would encourage any man who is curious to embrace their love of lingerie as it can have an amazingly positive effect on both your sexual desires and your one mental well being. Whilst tricky it's important to talk about it with your partner as being open about it was a key part for me to embrace it.
Is there a personal experience you would like to share with the Kinky Karrot community? Then write us a short summary of about ten sentences, what you would like to write about and why you think it would be an enrichment for the community. We look forward to hearing from you and are excited about your story. (Please note that these are real life experiences / stories, not fictional stories). Get in touch!
READ MORE FROM THE COMMUNITY