Community Story by SYLVANA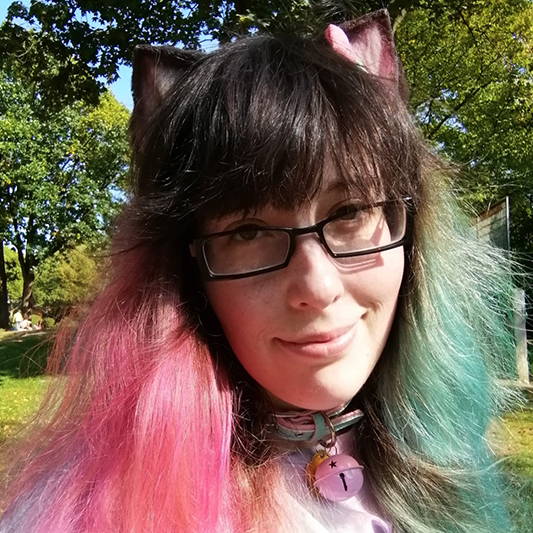 Maybe you've thought about this once: Animals can live a quite carefree life. They get fed, they get to play and the only thing they're expected to do is to listen every once in a while. While we humans got to work and have other obligations. Sometimes this work is tied to an overwhelming amount of expectations. For me, that bar always felt exceedingly high.
And of course we're doing our best as humans in a functioning society to fulfill them.
It's not rare that we wish to be somewhere else or someone else from time to time. And maybe somewhere along those lines, Petplay had been born.

Petplay is a part of BDSM. When you think of petplay, you may have heard about people wearing collars, wearing masks and you've also may have heard about the "sexy cat" or seen people wearing puppy masks/hoods on a pride parade. If you think more about it, it can look very degrading: An animal doesn't have the same rights as a human. So if you were stripped away from your human rights, put into a cage, pulled around on a leash expected to walk on all fours, unable to talk, you might ask yourself: What is it that people like in petplay?

And the answer to that is surprisingly easy.

Some favor the degrading aspect, being "nothing more than a lowly dog". Some favor the easier tasks and the struggle to fulfill them on all fours. But probably all of us love the praise. The knowledge we have fulfilled or even exceeded the expectations placed on us. That we're good. And that on the other side of a pet, there is a handler looking out for them.

"It is much easier to show compassion to animals. They are never wicked."
- Haile Selassie

For some it is easier to show love to an animal. If a person jumps into the role of that animal, we're able to forget the social expectations placed around humans. You're not thinking twice about openly loving your pet and your pet never needs to think twice about openly loving you. The same goes for stern training.

All these factors, and possibly even more, play into an interest for petplay. For me it's the part where I am allowed to laze around. I own my own business and act under a lot of pressure every day while handling expectations and responsibility with the utmost care. But when I become the kitten of my Master, I can forget about all that weight and relinquish control. He enables me to laze around in the sun, ask for what I need, be as clingy and as needy as I want and he praises me proudly for completing minor tasks. I am allowed to feel precious and act openly about my needs while mimicking a cute little cat.

But while this all sounds nice, you might still ask yourself: What if something happens? What if I want to opt out?
Well, outside of that scene or dynamic, you're still a human. Every type of BDSM play, including petplay, comes with a ton of research and discussions upfront and after care after a scene as well as regular check-ins as much as you have agreed on. Both parties talk as equals, set safe words, figure out do's and don'ts and of course a sign to act as a safe word if you're unable to speak up. You shape your play together. So that you can safely let go and be happy.

This includes the amount and form of intimacy you choose to integrate. Petplay can of course be sexual, but intimacy can be achieved without sex itself. Personally, I do not know a lot of people who actually incorporate sex into their play, however it may be interesting to play with the concept of "being in heat" or do each other as if we were animals. Staying in your role may keep you from shame during the act and also be a good reason for you to incorporate sex, if you feel like it.

However, sex is not a necessary part of petplay. Intimacy is often already received through acknowledgement, acts of love, pets, cuddles and the headspace you end up being in, while being a pet, might be one where you would not think of sex at all. Being in a cage, or on a collar and leash for example can push a ton of emotions on you. Emotions that can leave you in a similar state as you end up in after real good intercourse.

In my case, sex is usually not a part of petplay. I've found that Iplay different roles, the most prominent one being the kitten, where I feel small and loved and intimacy comes from being close to each other, cuddling, pets and praise. At times, I feel a need for primal connection. In that case, I like to get into the role of a wolf, which leaves me more calm and connected. It's the role where I am most able to handle a pack, aka lead others on as an alpha sub and it's often part of me, when I train my human pony non-sexually. Other than that, I do also like the role of a fox, where I can be cheeky, active and sensual and that is my form of petplay that actually incorporates sex. However, not everyone has multiple pets they like to play, some stay a puppy all the time, some go nonverbal and try to be an animal as much as they can, while some are like me and stay human for some part.

Because BDSM is what you decide it to be!

Is there a personal experience you would like to share with the Kinky Karrot community? Then write us a short summary of about ten sentences, what you would like to write about and why you think it would be an enrichment for the community. We look forward to hearing from you and are excited about your story. (Please note that these are real life experiences, not fictional stories). Get in touch!
READ MORE FROM THE COMMUNITY