Community Story by CHARLIE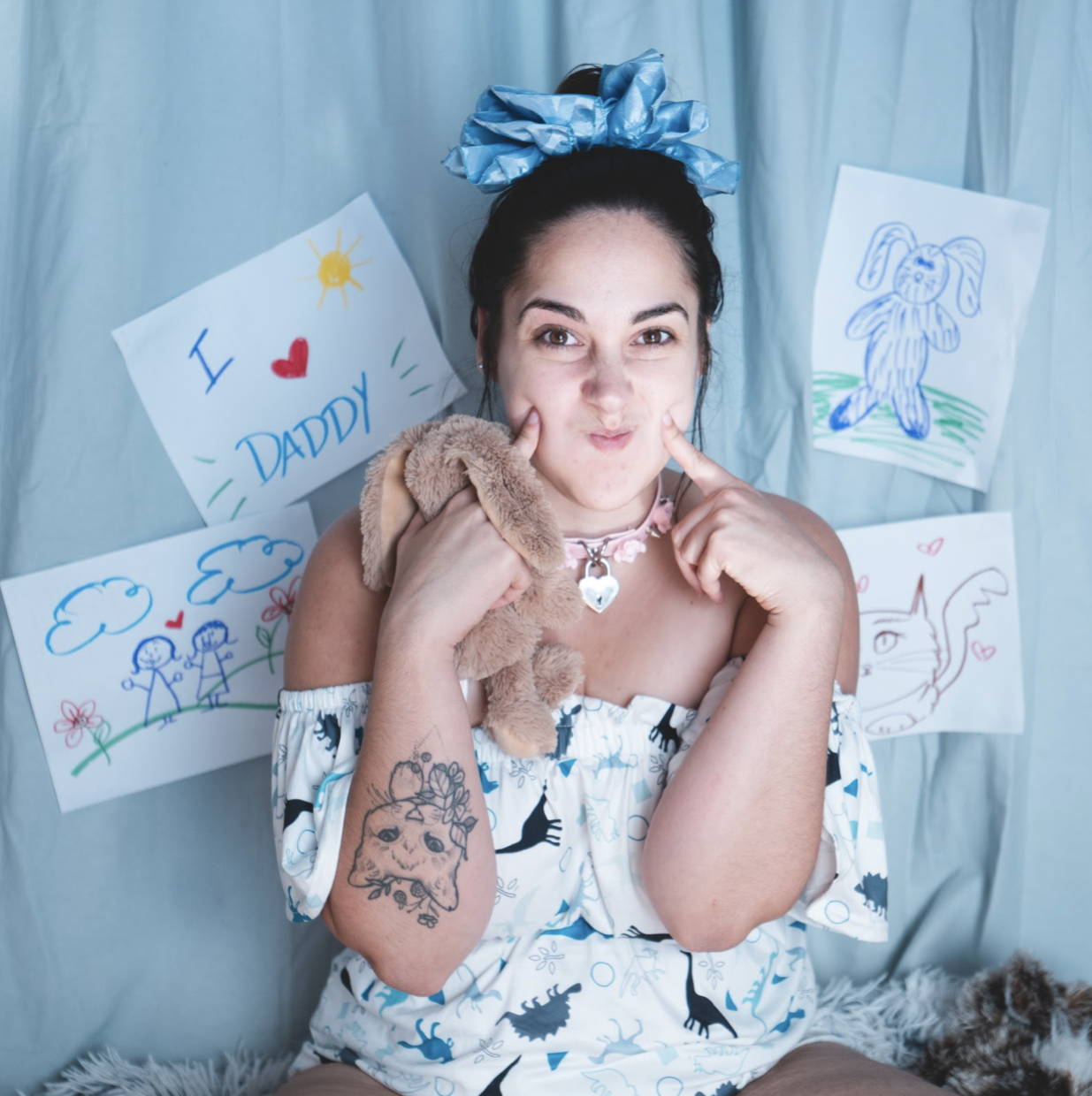 Ever since I discovered BDSM and kinks, I never thought I would have a Daddy Dom Little girl (DDLG) relationship. Today I am 26 years old and i've been in the BDSM community for 5 years. My explorations brought me to different places, but the DDLG world came across my path only a few months ago. I was listening to a podcast about positive sexuality and they mentioned that lifestyle. I was amazed, curious and a little bit scared. It brought to surface a vulnerable part of me that I always knew was there. So I talked about it to my partner and he related so much to the Daddy side of that lifestyle.
Ever since then we have been having a wonderful and consensual 24/7 relationship together
and I wanted to share with you a typical day in my life as a Little.
"I wake up to the smell of fresh grounded coffee and Dino's oatmeal prepared by Daddy. He really loves to cook for me and I always thank him a lot for that. After breakfast, I look at my « task board » to know what chores I'll have to do during the day. It can be « do the dishes », « feed the cat , « make the bed », « drink water » or the one I hate « do adult tasks ». If I make all of them, I can earn points and trade it for goodies! It makes Daddy proud when I complete them all. So while I acknowledge my tasks, Daddy chooses my clothes for the day. He loves when I wear cute dresses with flower patterns and a bow in my hair. So after that, when he said goodbye for the day and that I am home alone, I would send him pictures of me in my outfit. He really loves it, especially when I lift my dress. It's our little secret!
Around 5 o'clock, I welcome Daddy with big kisses and hugs. Sometimes he brings me surprises like special food or other fun stuff like new stuffies.
During the evening, when he prepares the supper, I help him by cutting the veggies and setting the table. He watches me closely when I manipulate big knives! When I set the table, I always place a set of little utensils for myself. I like tiny objects, they bring me instantly into Little space. Daddy likes to make me wear a bib, but I never spill food on myself. Oh well, no, it only happens when HE gives me food. But I won't complain. Daddy loves to feed me! He knows what's good for me and I am grateful for that.
So after dinner, it's bath time! It's a fun and relaxing moment for both of us. Daddy always adds bath bubbles and I LOVE it! When I am all clean, I put on one of my pajamas (I have a couple of onesies, some with dinosaurs and other with cute peaches) and watch TV. Finally, I love when Daddy brings me to bed with my stuffies and my blankie and kisses me goodnight."
I must say, we have a very special and unique relationship. Daddy loves to be a mentor, tender, sweet, caring and protector but also knowing that he can always punish me and give me lessons (that we agreed upon). And for me, I always had it in me. Loving and collecting little things, playing with toys, having stuffies and a « cute voice » when I am deeply feeling myself. Our relationship grows and changes everyday and that's the beauty of this vulnerable yet powerful kink.
Is there a personal experience you would like to share with the Kinky Karrot community? Then write us a short summary of about ten sentences, what you would like to write about and why you think it would be an enrichment for the community. We look forward to hearing from you and are excited about your story. (Please note that these are real life experiences / stories, not fictional stories). Get in touch!
READ MORE FROM THE COMMUNITY