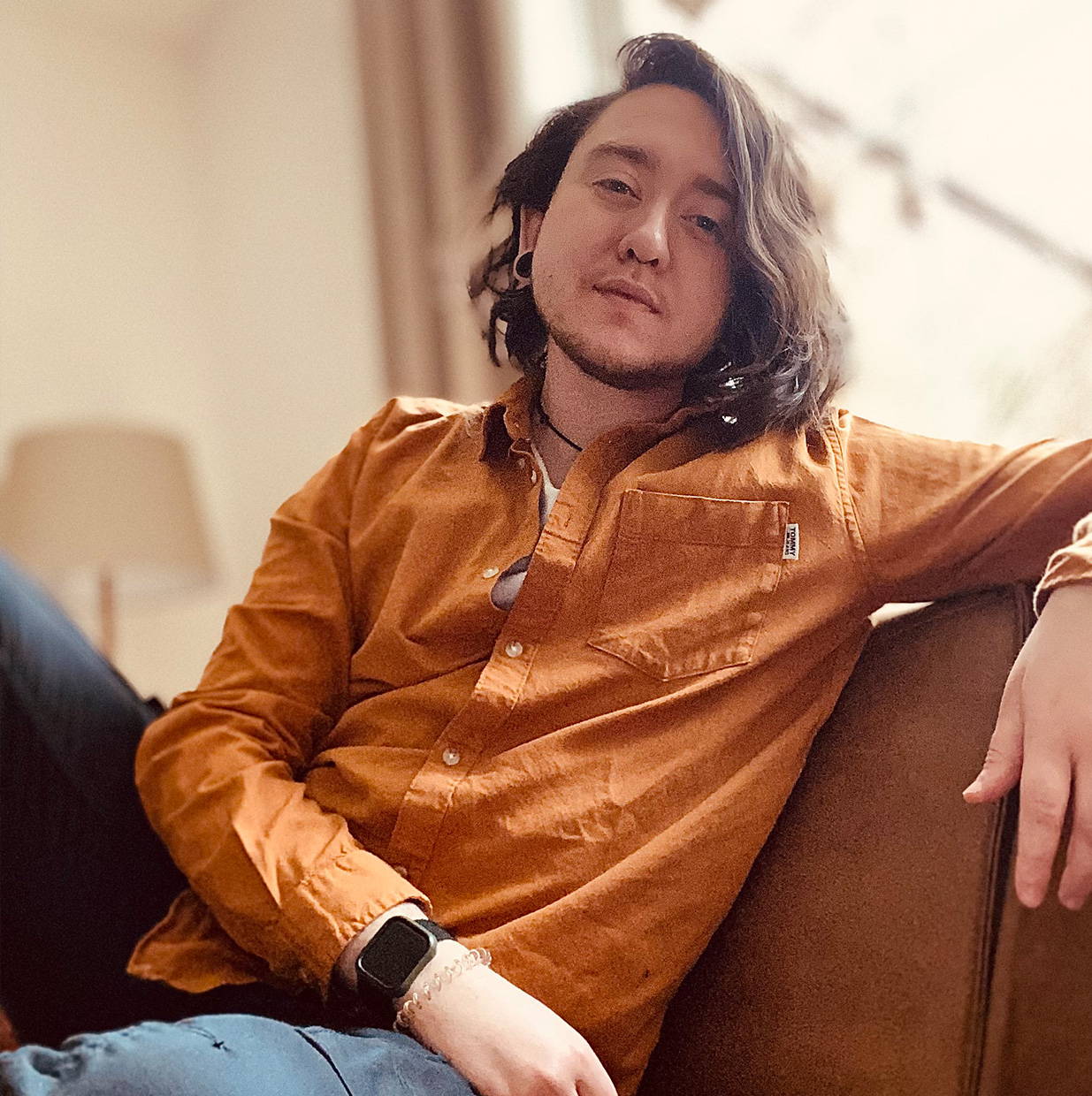 Hello! My name is Christopher and I have a vulva. That might sound weird at first and for some it might sound bewildering, totally new or like one would exclude the other – but that's just how it is. And that's also what I would like to tell you something about today – my life as a man with female sexual characteristics and what my life with them looks like.
So – Why do I, as a man, even have a vulva?
I was born in 1990 with female sexual characteristics. At some point though, as far as scientists can tell today, my brain developed differently than the rest of my body. There's a male brain within that female characterized body.
By law I have been living as a male person for a couple of years now. My hormone levels equal those of an adult (cis) man. Aesthetically nothing about me might make you think I wasn't born as a male to begin with. Nothing but my vulva. But going through everyday life no one can see that, and besides close friends and brief sexual contacts no one knows what lies hidden within my pants.
Talking about my relationship with my vulva the first thing is clear now – out of sight, out of mind. There is no advantages but no real disadvantages either. My vulva simply "exists". Only during summer trips to the nearby lake, when other guys can simply pull down their pants and take a wee against a tree, I am reminded of how I wished I were equipped with something else. Something handier. Peeing, for me, is a process that needs planning in advance, so I don't have to out myself, to not expose myself. Annoying at best, but after a while nothing but a part of my life.
Sex, on the other hand, is something completely different. Believe me when I say – I love sex! Alone. In twos or threes or even more – no matter how, no matter where, no matter with whom. Sex, for me, is something purely amazing. And my vulva is an amazing playmate! Oftentimes I was more than happy to be quipped with something so handy! Sex with someone with a penis? No problem! If it needs to be quick and spontaneous, I wouldn't even have to douche, prepare and stretch for hours like it's usually the case when anal is the most referred to option. But what if I want to do anal? No problem either! More holes, more options! Sex with another vulva person? Just as awesome! That way both sides know which buttons to push and what might be fun for everyone! Just because no penis is involved doesn't mean there's a limited number of sexual practices to explore! With or without penetration- for which everything can be used as long as it's safe and comfortable for everyone involved. I don't need a penis to accomplish that when there's such a high diversity in sex toys. So, sexually I don't have an issue with my vulva. If anything, I've learnt to use my vulva as a leading edge over my competitors.
Having said this there's still a downside for me. Moments in which I can't imagine touching my vulva ever again. Or letting someone else touch me. The experience of extreme rejection, which can even lead to a state of shock and mental "paralysis" is called dysphoria.
As a trigger I can mainly name two things – when I am being placed into social and gender stereotypes just because of my vulva, against which I have fought for way too long. Or when someone doesn't view me as a man with a vulva but instead as a walking vulva on two legs.
I love vulvae. I love, value and appreciate women. I love *my* vulva. But call it trauma, call it exaggerated resistance, call it what you want. But do not call me a woman. I am a man who happens to have a vulva. A man. Period.
The gay community in particular demonstrates that there's only a very fine line between being fetishized and being rejected. Especially profiles of bisexual people comment on me in a way that makes me think that me being a trans* man is being viewed as some sort of a happy medium to get the best of both worlds. Male appearance combined with a vulva to enjoy their preferred sexual practices. Unfortunately, that leads to me, as a person, fading into the background while my vulva as a body characteristic is being prioritized. And that's something I can't get by – I am more than my vulva, personally and sexually. As much as I love my vulva, as a trans* man this relationship is already fragile enough with all the self-discovery, reflection and peacemaking involved. I can't let that become even more complicated because of the fetishes of strangers.
Sometimes it happens that people around me reduce me down to my genitals without them even realizing this. One of my ex-partners identified as lesbian, which unfortunately didn't consent with my own gender identity. I might have a vulva. But a relationship with a man with a vulva simply can not be a lesbian relationship – because you're in a relationship with me, a man, and not my biologically female genitals.
Some of you might be asking why I don't just undergo gender reassignment surgery and "get rid" of my vulva. First, that type of surgery involves many risks which I am not willing to take. Second, I like my vulva and I don't see why I should give up on that for the pure sake of others and their own bigotry.
I am a man with a vulva. As weird as that may sound. And I love it.
Is there a personal experience you would like to share with the Kinky Karrot community? Then write us a short summary of about ten sentences, what you would like to write about and why you think it would be an enrichment for the community. We look forward to hearing from you and are excited about your story. (Please note that these are real life experiences / stories, not fictional stories). Get in touch!
READ MORE FROM THE COMMUNITY