Community Story by ANTEIA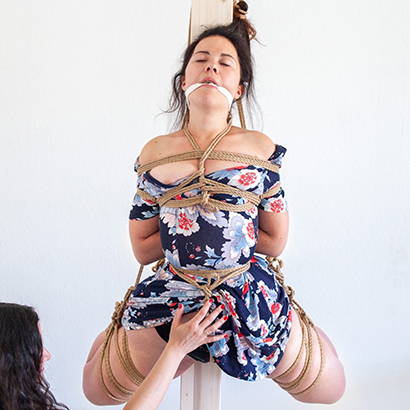 About two years ago my friend parted with her rope model but needed one for an upcoming Kinbaku workshop. Since I had always been fascinated by bondage anyways I suggested that I could go in the other girls' place and she agreed. This decision changed both our lives: at that workshop we discovered that we could effortlessly share this deep passion and that tying together added something to our relationship and our sexualities that we didn't even really know we were missing.
Admittelty, I have never been into vanilla sex. As someone who normally likes to be in control (especially of my own behavior), I have a hard time relaxing during it: it is difficult to enjoy when your mind is constantly chatting away in the background.
But I want to let go during sex
and I think it makes sense that being controlling in many other aspects of my life I wish to experience exactly the opposite when it comes to my erotic endeavours. Also I am quickly bored by the predictability of regular sex and don't find it very fullfilling. This is why I always was into
BDSM
and why (at least in every long term relationship) I prefer consensual non-consent: because giving up all control and submitting without loopholes, trusting and being trusted, intensifies the whole affair.
This is also how I live and love bondage: I let go. I surrender. I trust. The way my partner ties me often aims for torment, for beauty in suffering. This includes very sensual and erotic momentes, yes, but also all other emotions deep and true. But you cannot have those while holding back. You have to open up. You have to show everything, your hunger, your fear, your sadness, your shame. To me this is an immense thrill and also very arousing: I yearn for it. I want to give it and receive it. And it always happens with Kinbaku.
Plus: it is never, ever boring. Quite the opposite: every experience in ropes is new and surprising. For me it can range from the purely sexual to the deeply spiritual, from intense shock to undeniable pleasure, sometimes even in the same session. Being tied can make me wet and aroused or leave me broken and crying – and rarely do I have any influence over which of these it will be. When tied, I do relinquish all control. My mind is finally silent, but my heart is not: I feel it all, every sensation, every emotion. This is also why tying is too intimate to me to ever want to do it just to have fun or with anyone I am not attracted to or have no connection with. I mainly want to share it with the partner I have.
In one way though, I very much like to share it with many people: I love an audience when being tied. Because there is nothing like being observed by those who share our passion for kinbaku and who therefore understand your torment and all the more enjoy to see it, to watch
you and your partner go and undertake this journey together
. I simply love that. And it's hot as fuck.
In the end, I think that with Kinbaku I did discover the expression of my sexuality that comes closest to who I really am. This does not mean that I don't enjoy other sexual activities very much (my life partner for example is not into japanese bondage at all), but Kinbaku truly brings everything together that I enjoy: depth, intensity, unpredictability, meaning. It is like finally arriving where I always belonged – home.
Is there a personal experience you would like to share with the Kinky Karrot community? Then write us a short summary of about ten sentences, what you would like to write about and why you think it would be an enrichment for the community. We look forward to hearing from you and are excited about your story. (Please note that these are real life experiences / stories, not fictional stories). Get in touch!
READ MORE FROM THE COMMUNITY