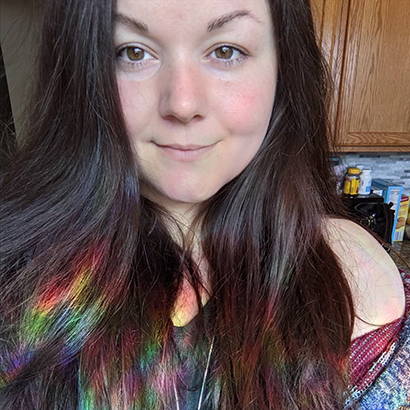 My partner and I have been together for going on 10 years now. When we first met we were about 20 years old and as many 20 year old's with a large sex drive and little experience it is easy to say that our sex life and relationship have grown and evolved with each other in that time. From the very start of the relationship, we had this magical, tantric aura when we came together for intercourse. We both experienced feelings like we were high on something when we were really just feeling our exchange of energies. I would have the most amazing orgasms I had ever experienced feeling lost in this euphoric energy field we had created.
Through all of this time together we still feel and share this energy exchange that enhances our love making and is something that I believe others can feel and should not ignore. Building on sharing a tantric connection between partners is extremely beneficial and is also great, meaningful foreplay. Helping to connect on a more spiritual level helps translate in all parts of the relationship but feels especially rewarding with the sex life and intimacy in general. For years now in addition to this connected aspect of our sex life, we have recognized that I cannot cum with traditional intercourse, even though coming together and feeling one another was so special and sensational.
So, we have adapted different activities for us to do so that I can be sure to climax properly. My partner has no shame in using a toy, such as a dildo, to penetrate me while partaking in other arousing activities to help me climax and it is always successful. Some of the other arousing activities include kissing/sucking on the nipples, playing with the clitoris, choking, ect. These are all things that I personally enjoy but are all things that I tell my partner that I want from them.
Recently, we've discovered that when we practice Kamasutra position, Nun #41, while my partner also penetrates me from behind, is one of the most overwhelmingly amazing orgasms I have had to date! This happened just in the last couple of months.
When you start truly exploring all of the different ways that you can sexually arouse each other the options become endless.
Expressing likes and dislikes help the journey together immensely. Something that has helped us to explore likes and dislikes have been buying a share of different toys to try. We had originally started by just using a dildo (we prefer glass toys) but have expanded our collection to nipple clamps, butt plugs, silicone dildos, chains and a "strapless" strap-on.
It is important to remember that there is no wrong or right way to have an orgasm, the experience is unique to you and your partner. For women especially, I think masturbation is very important so that in your own comfortable time with yourself, you begin to realize things you like much more easily. I once thought I didn't like "dirty talk" until I was masturbating and dirty talking to myself! I believe that being in tune with yourself and exploring the different things that make you feel good are pivotal for a successful sex life with your partner.
Don't be afraid to share what works for you and what does not work for you. Growing with someone is such a special thing, allowing for there to be open communication about the things that please us only helps make the bond stronger and brings it more meaning. Everyone deserves to have wonderful orgasms and your guidance helps make that happen!
Is there a personal experience you would like to share with the Kinky Karrot community? Then write us a short summary of about ten sentences, what you would like to write about and why you think it would be an enrichment for the community. We look forward to hearing from you and are excited about your story. (Please note that these are real life experiences / stories, not fictional stories). Get in touch!
READ MORE FROM THE COMMUNITY